Evolve Prosthetics & Orthotics in Henderson, NV, can provide you with a variety of off-the-shelf and custom-made ankle prosthetics. Our team of certified prosthetists is here to help you find the perfect combination of the fit you need and the functionality you want. Our solutions are specifically designed to improve mobility and generate stability as you go about your daily life.
Types Of Ankle Prosthetics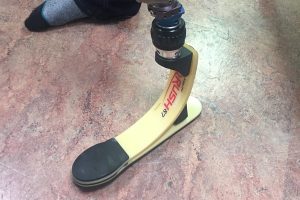 We have the knowledge and experience to help you find the best ankle prosthetic for your lifestyle. We know that for most amputees, finding the right prosthetic can feel like an uphill battle. Don't let that get in the way of finding the perfect solution to support your desired lifestyle.
We can discuss your daily life, extracurricular activities, work, etc. and then go through the best types of prosthetic ankles for you. From just wanting a natural look to participating in extreme sports, we have solutions.
Powered Foot & Ankle – Mimics The Natural Ankle
Microprocessor Ankles – Comfort, Safety & Natural Gait
Hydraulic Ankles – Great For Varied Terrain
Verticle Shock / Multi-Spring Ankles – Moderate To High Activity
Dynamic Response / Kinetix Energy Ankles – High Performance
Single Axis – Simple, Less Active
What Is A Microprocessor Ankle?
Microprocessor feet and ankles use hydraulics and specialized sensors to monitor your movement and make necessary adjustments to the ankle's angle and stiffness in real-time. These powered ankles can offer flexible ankle movement, normalized gait, and center your body's alignment.
Microprocessor ankles are the closest thing we've seen to their biological counterparts. This more comfortable, technologically advanced method can improve your mobility in many ways.
Low To Moderate Impact
Increased Ground Contact
Symmetrical Gait
Improved Stability
Comfortable Shock Absorption
Imitates Life-like Movement
Customized Ankle Prosthetics
If you want to get your range of motion back with the help of prosthetic ankles and feet, but can't seem to find the right fit or style, let us customize something for you. We create custom ankle prosthetics that fit just right, resulting in better ankle movement and foot control, no matter the terrain you're up against.
This is also a great option for patients with Symes ankle disarticulation which are notorious for being hard to fit off the shelf.
Some of the other advantages of custom ankle prosthetics include:
Decreased Socket Pressures
Reduced Risk Of Stumbling
Improved Mobility
Reduce Limitations In Range Of Motion
Ankle Prosthetics In Las Vegas
Our prosthetists are here to help you find the prosthetic ankle that fits great and works best for you. At Evolve Prosthetics & Orthotics in Las Vegas, we've seen it all and love a challenge. We work with you to find the best range of options for your activity style and level. Contact us today to schedule a consultation.