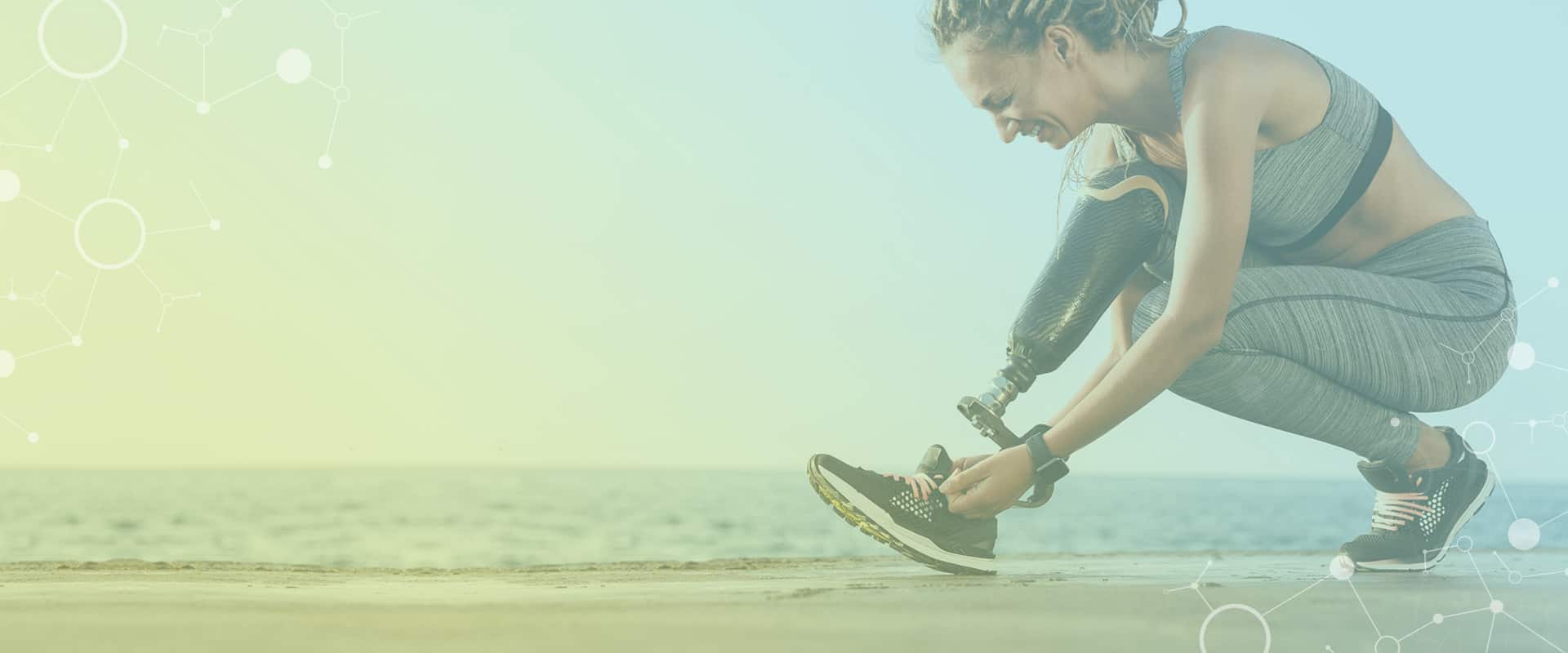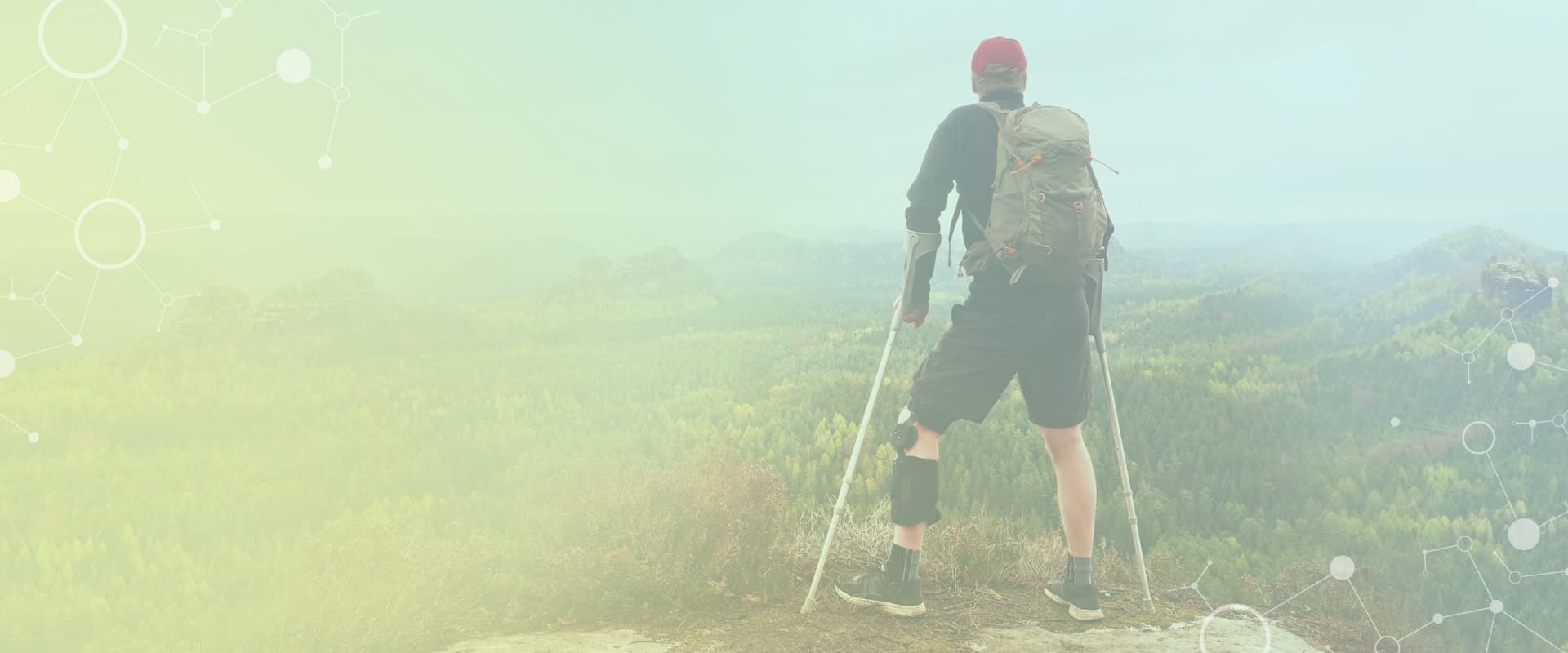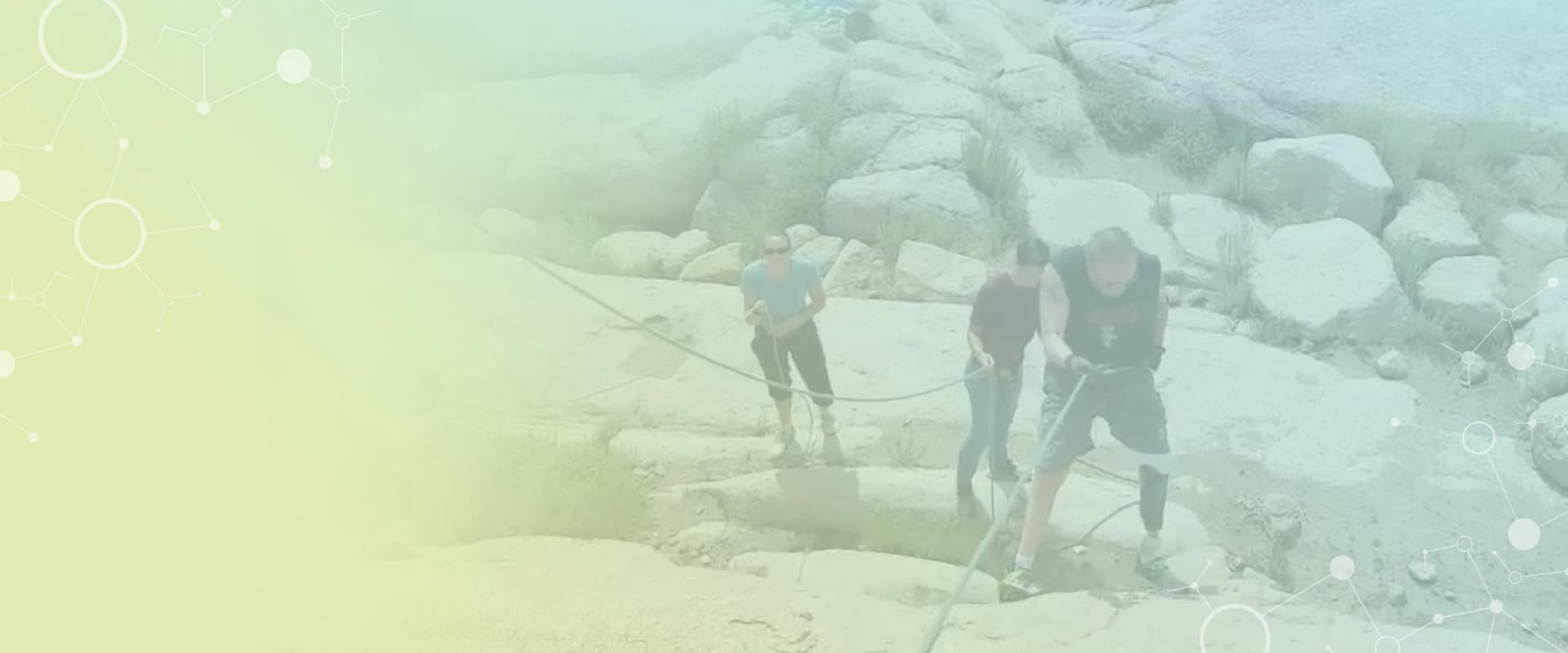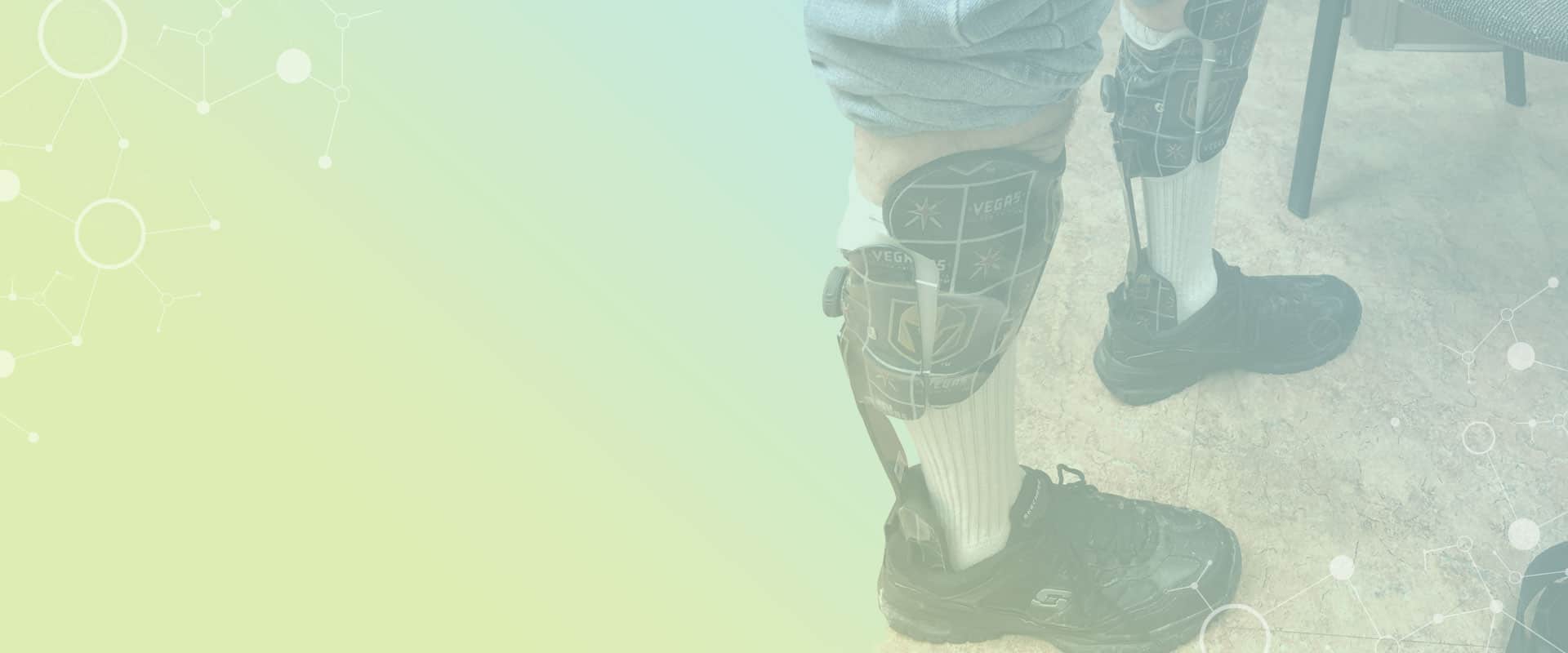 Prosthetic 1
Tailored Prosthetic
& Orthotic Solutions
We specialize in fitting you with the right prosthetic limb or orthotic so you can do what matters - living your life. Get fitted properly.
Orthotics 1
Custom Leg Braces
We know you have things to do, places to go, and mountains to conquer. Let us help you get there with custom bracing solutions.

Prosthetics
Limbs & Prosthetics
Are you happy with your current prosthesis? We offer conventional, pin and vacuum suspension, and even myoelectronic limbs in Las Vegas.
Orthotics
Unique Orthotics
We manufacture many of our orthotics & braces in-house, and proudly offer custom designs for our orthotic patients to show off their style everywhere they go.

We're a Las Vegas prosthetics and orthotics clinic that cares.
We are Evolve Prosthetics & Orthotics, formerly Denham Orthotics. We use our years of experience and our expertise in the industry to fit you with devices that help you live your life on your terms. 
We create, fit, and offer prosthetics and orthotics for many medical conditions depending on what each patient needs. We provide both custom limbs and braces which are made in house, and also offer off-the-shelf solutions from a variety of respected brands. 
Our experience is with all levels of amputation, as well as orthopedic and neurological injuries, conditions, and pathologies.
We specialize in the following:
We also offer free consultations and second opinions to everyone. Why? Because your comfort matters. We have a proven track record of listening to our patients and caring about their wants and needs. Have you been told you're a "hard to fit" patient? Come see us – we can help. 
Prescriptions & Insurance
All patients must have a prescription from a doctor for any device we fit for you if it's is to be covered by insurance. Yes, we accept most insurance! 
Wording the prescription properly is important to get what you need. We'll suggest verbiage so you can get your doctor on the same page.
Purchasing a device out-of-pocket is always an option.
Not every P&O clinic offers the same level of care and precision that we do at Evolve Prosthetics & Orthotics. At our shop, we will keep making fittings and adjustments until everything feels right at no additional cost to you. We care about your comfort and helping you get back to doing what matters. We cater to the athlete, weekend warrior, office professional, children, and people of all ages, abilities, and needs.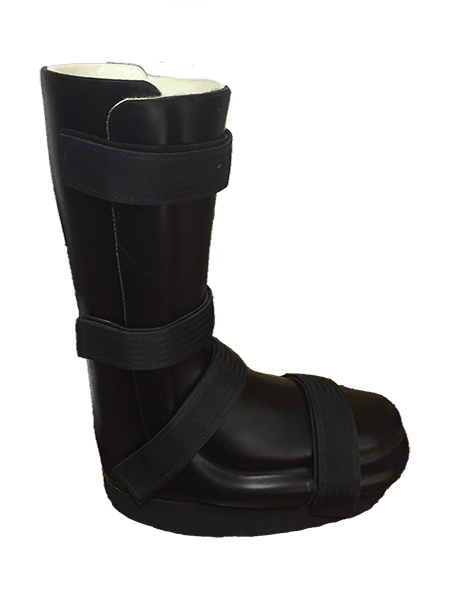 We fabricate and fit orthotic devices for many conditions: Peripheral neuropathy, MS, arthritis, diabetes, post polio, post stroke (CVA) and any condition that causes foot drop like Charcot-Marie-Tooth. We provide pediatric bracing, spinal bracing, sports bracing, and custom leg, ankle, and foot orthotics.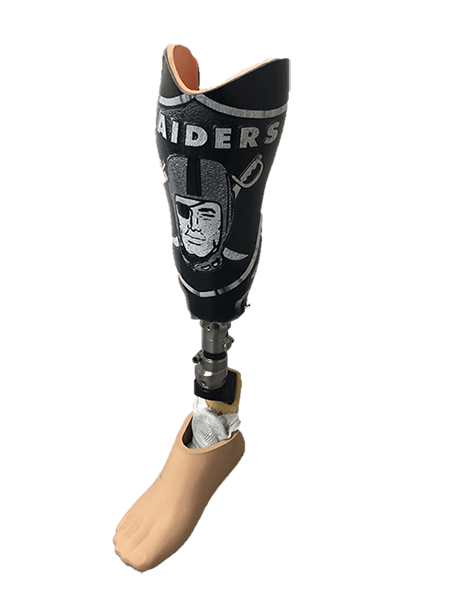 We fabricate and fit custom prosthetics for amputees at all levels, including partial hand. We specialize in upper and lower extremity amputations or prosthetics. We provide solutions for disarticulation of the wrist, elbow, hip, shoulder, and knee, as well as symes (ankle). We offer vacuum and pin suspension devices, as well as myoelectric limbs.
Custom PROSTHETICS FOR Fans of All Kinds
Show your Las Vegas Golden Knights pride with a custom orthotic or prosthetic design! We think the biggest sports fans will love these.
We can create a unique design for any sports team, fandom, pattern or print. Or use your own custom art?
We can add almost any art style or image you want. What design speaks to you? We'll do our best to make it happen.
Your custom prosthetic limb or orthotic brace should reflect your personality and style. Show off the things you love with a custom-manufactured device from Evolve Prosthetics & Orthotics.
We are committed to our patients' comfort and their desire to get back to what matters – at work, at home, and at play. We keep working until every patient has the right fit and comfort level. See what they have to say about us.
Awesome place and staff and highly recommend these guys. The Dave's, Annie and Jim all rock.
My go to for my orthotic needs and never a bad time!
Dave is AWESOME!! Great personality and knowledgeable! Highly recommended!
Dave is fantastic. He's very detail oriented and always gets my feet right. I love coming here even though it's quite a drive from Summerlin because my Prosthetist takes care of my needs.
Dave and staff are amazing. They are the best orthotic place I have been to in Vegas by far.
"Dr. Dave" made an amazing pair of ankle braces for my club feet. I am so grateful to have been referred to Denham Orthotics and Prosthetics.
Ready to see what we can do for you?
Choose from our selection of ready-made orthotic and prosthetic devices, or we can custom-make something just for you at our Henderson location.
THE NEXT EVOLUTION OF PROSTHETICS & ORTHOTICS
We stay on the cutting edge of prosthetic design, function, and fabrication by offering the latest tech options, including myoelectric limbs, microprocessor knees, and vacuum suspension prosthetics. We also manufacture custom orthotic devices, such as knee braces, custom leg braces, shoes, and inserts. Are we creating bionic humans? Not quite, but almost.
At Evolve Prosthetics & Orthotics, we service all levels of amputations and take pride in listening to you and solving hard to manage cases. Evolve has been serving the community since 2004, formerly as Denham Orthotics. We look forward to providing you with the best options in prostheses and orthoses.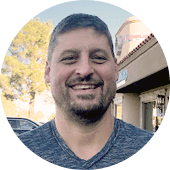 Certified Prosthetist & Orthotist
Dave began his career as a physical therapy technician at STAR Sports Therapy. He graduated from UNLV with a degree in athletic training in 1998. ...
Read the latest news and updates in the world of prosthetics and orthotics.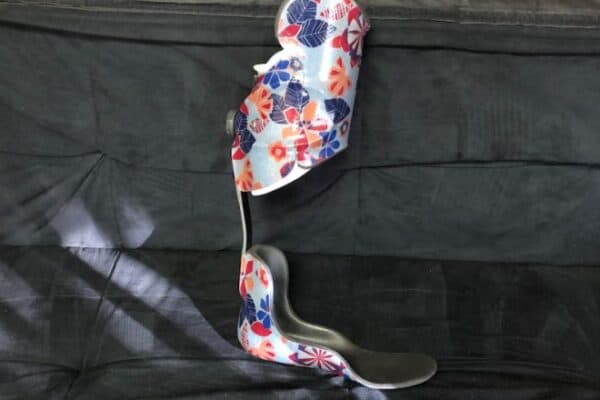 Have you ever struggled to lift your foot while walking? Or perhaps you have a loved one who tends to trip over their own two ...
We genuinely listen to you and have a reputation for solving "hard to fit" patients. You have needs – we have answers.