When you want your new limb to fit both your body and personality perfectly, get a custom prosthetic socket from Evolve Prosthetics & Orthotics, serving you in Las Vegas and Henderson. A high tech, sophisticated prosthetic won't do you much good if it is so uncomfortable or unatractive that you never want to wear it.
Our prosthetists can create and customize your socket so that it fits so well that you will forget it's there, yet looks so good that you will want to show it off.
Perfect Fits For Better Prosthetics
A poorly fitting lower limb socket can affect your ability to walk well and balance. It can also contribute to falls. An ill-fitted upper limb socket can have the same skin issues and also impact your ability to use the prosthesis properly.
Bad fits can be uncomfortable or even painful to wear and cause blisters, ulcers, and skin breakdowns. 
We Take The Time To Fit You Right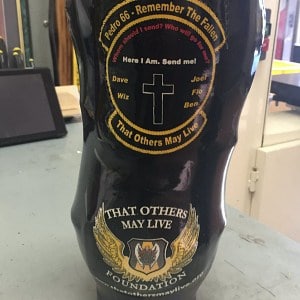 You probably already know that there is no one-size-fits-all prosthetic solution. This is why we allow unlimited adjustments and fittings at no extra cost – your comfort is our top priority.
To get the right fit, you'll want to choose the right type of socket, liner, and suspension for your prosthetic and your lifestyle.
We will help you with every step of the selection process.
The Socket / Interface – ensures proper fit and functionality while reducing problems with friction or load-bearing.

Below Knee Sockets – PTB Or TSB Sockets.
Above Knee Sockets – TF Sockets: Quadrilateral Sockets (Quads), ICS – Ischial Containment Sockets, Or MAS – Marlo Anatomical Sockets.

The Liner – creates a comfortable barrier between your residual limb and the socket.

Common choices include Thermoplastic Elastomer (TPE) Or Gel Liners, Silicone Liners, or Urethane Liners.

The Suspension – keeps your limb on so you can move and live the way you want.

Harnesses, Cuffs, Straps & Belts
Locking Liner Suspensions
Suction Suspensions.
Express Your Personality & Creativity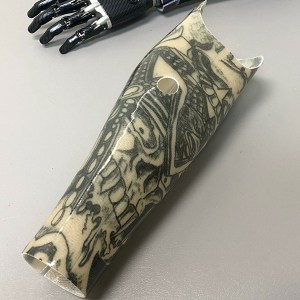 Nowadays, many amputees and congenital prosthetic wearers prefer to stand up and stand out with a unique prosthetic socket or sleeve featuring artwork or hand-painted tattoos.
At Evolve Prosthetics & Orthotics, we specialize in customize prosthetic sockets with unique artistic designs that allow you to make a statement about who you are.
The sky's the limit on the types of artwork we can add to your custom prosthetic socket, whether you want to feature your favorite sports team, a TV or movie character, or even a unique design or piece of art created by you.
Flexible Sockets – Get Involved With Our Cutting Edge Tech
We are looking for patients interested in a new socket technology being developed at Evolve Prosthetics & Orthotics. Research and refinement are in progress to create a flexible socket. We are seeking patients to take part in this exciting new design. If you believe you fall into any of the following categories, please contact us today.
You Would Describe Yourself As Having Extremely Bony Anatomy
You Are Notoriously "Hard To Fit"
You Use An Above Knee Prosthetic
You Are Looking For More Comfort In The Ischial & Groin Areas
You Have A History Of Not Being Comfortable In Traditional Rigid Sockets
Sockets You Want To Show Off
Our staff at Evolve Prosthetics & Orthotics serve patients throughout the Las Vegas and Henderson area. We work with many insurance companies and offer free consultations. Whether you are a new amputee or a long time prosthetic wearer looking for a replacement, call today to learn more about our custom prosthetic socket design and fitting options.