At Evolve Prosthetics & Orthotics, we are excited to offer myoelectric upper extremity prosthetics to amputees throughout the Las Vegas and Henderson areas. We look forward to listening to you, evaluating your needs, and helping you achieve your goals.
Myoelectric Prostheses
A myoelectric prosthesis is an externally powered artificial limb that you control with electrical signals generated by your own muscles. If a patient prefers a more natural look, a skin-like glove can be made to cover the prosthesis. Your myoelectric hand or arm will use one or more sensors that have been fabricated into your prosthetic socket to receive the signals from the muscles in your residual limb.
These sensors then relay that information to a controller, which sends commands to battery-operated electrical motors resulting in movement in your prosthetic joints. If muscle signals can't be used to control your myoelectric arm or hand, it may be possible to use switches with a rocker, pull-push, or touchpad to control your prosthesis.
How Myoelectric Limbs Work
Your myoelectric prosthetic limb is connected to your residual limb with a custom created socket. There are several options for wearing a myoelectric prosthesis and holding it in place, including a donning sock, wet fit, or pin. Because there is no harness involved, myoelectric prostheses are often more comfortable and offer a greater range of motion compared to a body-powered prosthesis.
They are designed specifically to mimic your natural anatomy and motion, which means these prostheses are one of the closest options you can get to a natural anatomical hand or arm.
Benefits Of Myoelectric Prosthetics
A myoelectric arm or hand was once considered a thing of science fiction. With the continuing advancements currently being made in the field of prosthetic design, they are now a reality.
Mimic Anatomical Arm & Hand Movements
Elbows Flex & Extend With Muscle Signals
Thumbs That Move & Change Positions
Great Function & Appearance
Wrists That Bend & Rotate
Greater Range Of Motion
Comfortable
Looks Very Natural
Improved Dexterity
High-Tech Solutions At Your Fingertips
This option provides even greater functionality and allows for simultaneous control of the shoulder, elbow, wrist, and hand. More cutting edge options even allow the nerves that remain in the residual limb after amputation to control the artificial limb and offer some feeling sensation that other prosthetic options do not. Myoelectric prostheses are very comfortable and offer a good range of motion because they do not require you to wear a harness. Both need to be kept clean and dry. There are many advantages to choosing a myoelectric prosthesis.
Can Look More Natural
Greater Stability & Control
Full Range Of Joint Movement
More Comfortable
Less Skin Irritation
Quick & Easy Attachment & Removal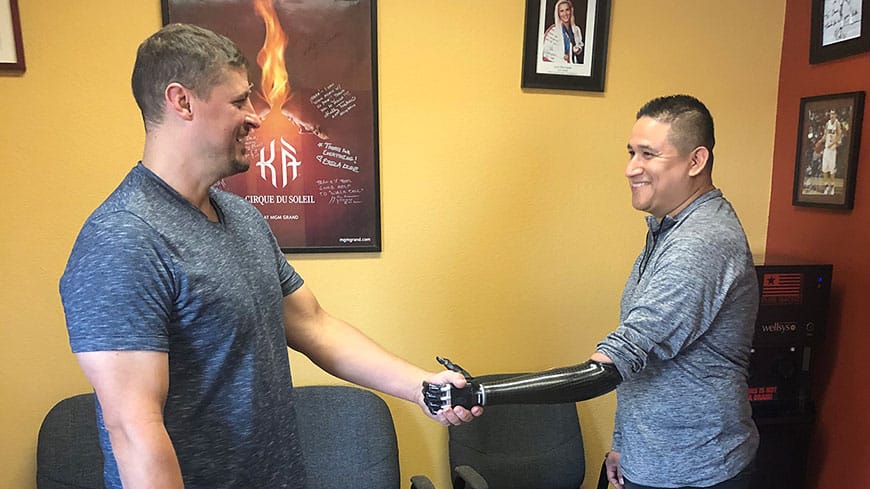 A PROSTHETIC COMPANY THAT LISTENS
At Evolve Prosthetics & Orthotics, we pride ourselves in listening to you and taking the time to understand what you need. What do you want from your prosthetic limb? We will work together to formulate a plan for your new prosthesis that puts your goals within reach.
We strive to support you and help you reach your full potential with our prosthetic limb options. We can help, no matter what reason brings you to our clinic.
Congenital Limb Deformities
Accident & Injuries
Post Surgery
Combat Injuries
Diabetes
Cancer
CONTACT US IN LAS VEGAS
As a leading Las Vegas area prosthetics clinic, Evolve Prosthetics & Orthotics has extensive industry knowledge. Our certified prosthetists offer you a total care approach. We want you to get the best service possible. Contact us today to learn more about our custom myoelectric prosthetics.