Open up a whole new world of power, stability, and mobility with a microprocessor-controlled knee or foot from Evolve Prosthetics & Orthotics in Las Vegas. You probably have some of the latest, cutting-edge tech powering your car, your phone, and even your kitchen gadgets. Why not extend your everyday mobility experience too?
Take advantage of the beauty of bionics in lower limb prostheses. We can fit and customize solutions that empower your unique lifestyle one step at a time.
Mechanical Vs. Microprocessor 
Mechanical prosthetics tend to be simple, lightweight, durable devices. Microprocessor prosthetics, on the other hand, include some of the most sophisticated hydraulics, sensors, and signal processors available.
Firmer Foundations & Seamless Transitions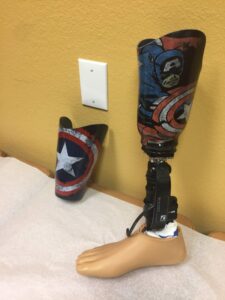 In bionic feet and knees, real-time biofeedback adjusts the prosthetic to your unique movements. So, you get a firm foundation and a seamless transition with each comfortable, confident step forward.
Advantages Of Microprocessor Feet
Reduced Risk Of Stumbling
Easier To Walk On Uneven Ground, Slopes, & Stairs
Improved Gait
Decreased Socket Pressure
Improved Prosthetic Mobility
Advantages Of Microprocessor Knees
Ability To Walk With Variable Cadence
More Dynamic Movement
Increased Stability
Reduced Risk Of Falling
Better Balance
No Need To "Watch Every Step"
The Ultimate Combination For Fluid Freedom
Microprocessor knees are well-suited for people with moderate to active lifestyles, including hikers and runners. They are also an excellent choice for bilateral amputees, as the knees adjust seamlessly to help you feel safer and more confident as you go about your daily activities.
You'll want to make sure you're taking advantage of everything your knee has to offer with the right foot. We can help you select a combination that not only works together but works specifically for you and everything you want and need to do.
Microprocessor Prosthetics In Las Vegas
We carry many top-rated lower limb prosthetics, including microprocessor feet and knees by brands such as Cleg, Rheo, Lynx, and Orion. We're not happy with your fit until you are and specialize in custom designs to add personality and flair.
If you live in the Las Vegas or Henderson area and are ready to be fitted for a new, upgraded, or updated foot or knee, contact us at Evolve Prosthetics & Orthotics today to schedule an appointment.