Evolve Prosthetics & Orthotics is a quality, reliable provider of off-the-shelf and custom orthotics in Las Vegas and Henderson, Nevada. Our carefully designed orthotic support devices give you more stability so that you can take back control of how you want to move, and where you want to go.
Get The Attention & Support You Need
Your doctor will prescribe your orthoses depending on the type of support or correction you need. Then, our Certified Orthotists will help you choose either an off-the-shelf orthotic device, or they'll fabricate custom orthotics – just for you.
While insurance coverage varies from patient to patient, we work with most insurance companies.
Common Conditions Requiring Orthoses
Stroke (CVA)
Charcot-Marie-Tooth (CMT)
Multiple sclerosis (MS)
Traumatic Brain Injury
Plagiocephaly
Scoliosis
Spinal Cord Injury
Cerebral Palsy
Diabetics
Cancer
Post-Surgery
Types Of Orthotics Available
Orthoses can be upper extremity (wrist, hand, shoulder, elbow), spinal, or lower extremity (hips, legs, ankles, feet). Because our bodies are made to carry and move us in so many ways, orthotics are never a "one size fits all" solution.
Examples Of Lower Extremity Orthoses
Braces For Legs & Feet
Ankle-Foot Orthoses (AFOs)
Knee Ankle Foot Orthoses (KAFOs)
Hip Knee Ankle Foot Orthoses
Hip Orthoses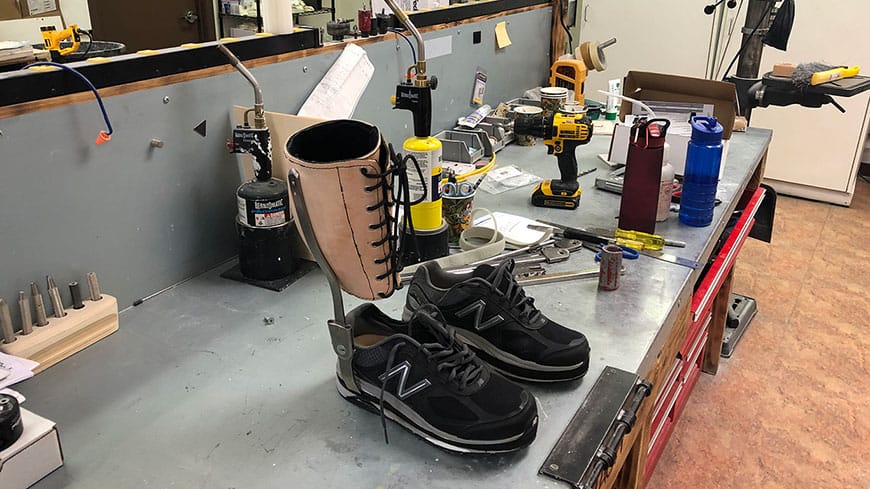 Orthotic Braces For Pain Relief
Custom orthotic solutions can help with many different painful conditions.
Drop Foot
Knee Pain
Back Pain
Foot Pain
Bone Spurs
Plantar Fasciitis
Bowed Legs
Osteoarthritis
Our Brands & Solutions
Your orthotic device may be temporary, or something you need for quite some time. We want to make sure you have the best experience with your new shoes, braces, boots, splints, inserts, back braces, or collars. We offer many of the most popular orthotic brands.
Form & Functionality That Frees You
We understand that orthotic braces and devices are available for a wide variety of conditions. Our orthotics clinic serving the Las Vegas and Henderson area finds so much pleasure in helping you find the perfect fit. If we don't have it, we'll put on our orthotics design hats to make it for you. We also support you through the adjustment period with unlimited fitting adjustments – we care about your comfort.
Las Vegas Custom  Orthotics & Braces
Contact us at Evolve Prosthetics & Orthotics to schedule your appointment today. We are located in Henderson, NV, and serve patients throughout the Las Vegas Valley. We look forward to meeting you and providing you with the level of care and service you deserve.